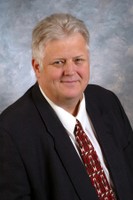 As promised, State Representative Kevin Bratcher (R-29) made good on his promise to speak with me this afternoon and answered some questions regarding happenings in his district. We also talked about specific legislation.
I asked him about Kentucky House Bill 70, a perennial piece of legislation that would restore voting rights to convicted felons upon completing their "service to the state". Kevin replied: "There is already a method by which convicted felons can get their voting rights restored. I voted against House Bill 70".
When asked about "right to work" laws and elimination of the prevailing wage provision in government contracts, Rep. Bratcher again expressed his opposition to these measures. He also noted that he traditionally receives support from labor organizations, and pointed to his pro-labor voting record in Frankfort, which is something I appreciate greatly.
Kevin Bratcher is against casino-style gambling in Kentucky, but may allow a vote by citizens on the matter should it ever come to it.
As far as the MSD proposal to pipe in waste from the east end of Louisville to be treated at the wastewater plant in Southwest Louisville, Rep. Bratcher said he would have to study the matter more before he commented, but cited his past battles with MSD and admitted that it looked bad for the city to be proposing such a measure in a part of town that receives so little attention.
Although we disagree on some issues, it was, over all, a nice conversation with a knowledgeable representative who should be sent back to Frankfort. He repeated his promise to speak with "anyone, anytime" that had questions about the district. Take him up on it, and you'll find a qualified public servant that is receptive to his constituents requests for information. Click
HERE
for his website.